Tacit Pleasures update: New sensor design!
Now that this project is moving once more, I've been focusing my efforts on building prototypes that are suitable for actual long-term use.
A big challenge has been sensor design. I made a prototype with the touch sensors at the surface of the dildo, skinned with a thin (0.1mm) layer of silicone. That worked for a while, but I've discovered that because the silicone doesn't bond with the material the sensor is made of, the silicone skin is quite fragile and soon tears, as you can see here.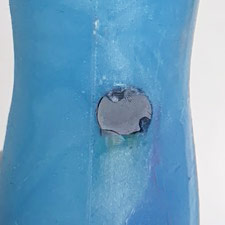 When the silicone skin tears, it exposes the sensor, which is, of course, unacceptable.
I've redesigned the sensors and embedded them deeper. With the current generation prototypes, sensors are embedded 2mm beneath the surface of the dildo, behind a 2mm silicone plug: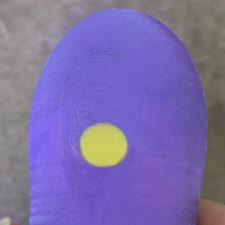 This creates a watertight, durable seal over the sensor, which should last as long as the toy does.